Visa requirements and residence permit
After processing your application, you will be issued an official Letter of Acceptance and a Confirmation of Accommodation. These documents will be needed for regulation of your visa or residence permit.
All exchange students who intend to stay in Croatia longer than 90 days, i.e. three months, are obliged to obtain a temporary residence permit upon arrival.
For the regulation of the residence permit, you will need the following documents:
Application Form 1a (will be provided on site)
Acceptance letter issued by the University of Osijek (will be provided upon arrival)
1 biometric photo in color
Copy of the passport or ID card
Proof of sufficient means of subsistence (scholarship confirmation issued by your Home University)
Proof of secured accommodation – Confirmation of accommodation issued by the University of Osijek if you will be staying in the dormitory. In case of private accommodation, you will need a contract of rent and a proof of landlord's ownership
European Health Insurance Card (EHIC) or other health insurance valid in the EU
non-criminal record (issued by home town court or police stating that a person did not commit crime)
Health Insurance
All exchange students must have health insurance during their stay in Croatia. There are several options for regulating your health insurance:
European Health Insurance Card (EHIC): students may use health care services in Croatia if having a valid EHIC.
If you are coming from a country that has closed an international agreement on health security with the Republic of Croatia, you are entitled to use the health care services during your temporary stay in Croatia. Before coming to Croatia, you should check with your health insurance provider at home under which conditions you can use your home health insurance in Croatia. If possible, your health insurance provider will issue a relevant document, which you should bring with you to Osijek. Upon arrival you will be assisted in contacting the Croatian Institute for Health Insurance, in order to replace the certificate attesting your right to use the health care with a paper-based health insurance record card (Croatian: bolesnički list).
You should possess an international travel and health insurance issued by an insurance company in your home country that is valid in Croatia. Such insurance must includes repatriation coverage (the cost of the health-care service is covered by the student, who will later be refunded by the insurance company).
You can regulate your health insurance upon arrival at the Croatian Health Institute (www.hzzo-net.hr). Such insurance costs 400 HRK per month (approx. 54 EUR) and entitles you to use all medical services that are available to Croatian citizens.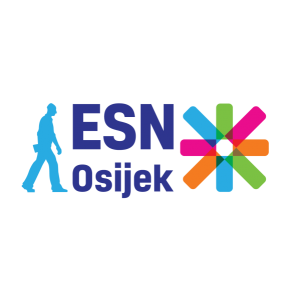 Erasmus Student Network – ESN
Our ESN home students will be your buddies willing to help you to accommodate and adjust yourself to new living and studying environment more quickly.
Your ESN buddies will give you all information about everyday student life in Osijek, Slavonski Brod or Đakovo, and about other practicalities during your preparations for coming to UNIOS, as well as during your stay at UNIOS.
Therefore, it is advisable that you get in touch with the ESN Osijek right after you have been accepted for mobility to UNIOS. All contacts with the Erasmus Student Network Section Osijek are facilitated through Facebook:
Please, check also the Internet Portal STUDY IN CROATIA for general information about organization of students' stay in Croatia.